No. 12 Princes Dock
This striking five-storey Grade A office building overlooks the waterfront of the River Mersey and Princes Dock.
No. 12 is home to some of the most prestigious organisations in the UK including Cargill, CMA and CGM Shipping.
The building has a double height reception and entrance together with a full height glazed atrium which provides breakout space. Meeting rooms with digital screens and refreshments are also available.
No 12 is also home to The Quay - a range of flexible office suites from 111 sq ft - 1714 sq ft. All suites offer stunning floor to ceiling glazing providing impressive waterside views across Princes Dock.
Specification Summary
Floor to ceiling glazing

Shower facilities

Fully accessible raised floors (150mm clear Void)

LG7 lighting

3 passenger lifts

4-pipe fan coil air conditioning

CCTV surveilance

Impressive double height reception
Suspended ceilings

Dedicated bicycle racks

Internal Atrium

Secure on-site parking at a ratio of 1:500 sq.ft

Refuse recycling collection service

Male, female and accessible WC facilities

Ultra fast WIFI broadband between 10MBps + 2GBps or traditional copper + fibre services

On-site cleaning service and maintenance

Meeting room facilities with digital screens and refreshments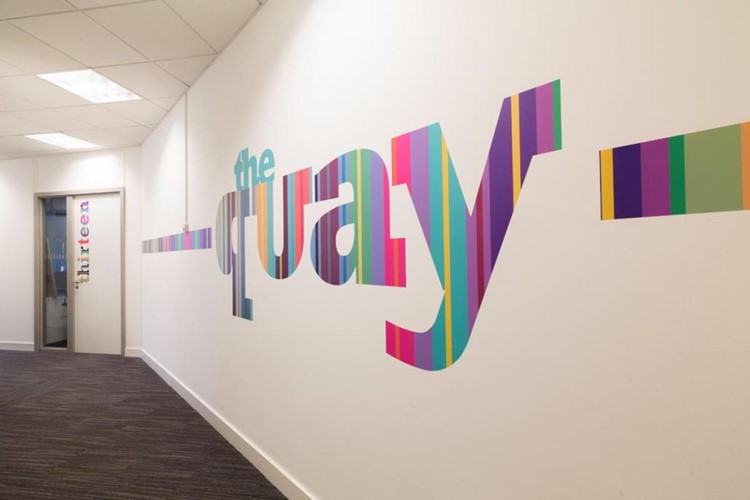 The Quay At Princes Dock

Availability:

Suite 9 - 162 sq ft

Suite 10 - 229 sq ft
Office 2 - 2,880 sq ft
I'd like to know more about this office space
Enquire

Thank you for
your enquiry
We'll get back to your as soon as possible.
The Liverpool Waters Team